23may(may 23)1:00 am28(may 28)1:00 am49th Cambridge Beer Festival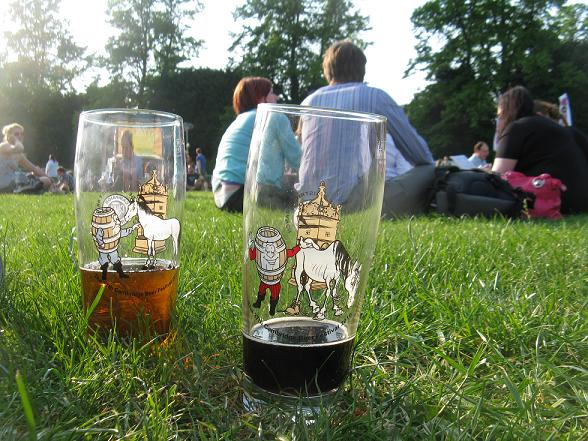 Event Details

This festival started in 1974 when there was a real danger of pubs being taken over by breweries and CAMRA (Campaign for Real Ale) came in to save the day.

Today there are hundreds of real ales, ciders, meads and perrys' to sample in what has become the second largest beer festival in the UK after the one in Olympia.

You can't miss the massive marquee in Jesus Green, which has become a symbol of the coming summer.

Along with all the beverages you can also find a cheese counter indoors and lots of food trucks outside.

We all like to pray for good weather but you can rub along together indoors should the rain come.

Our top tip is to avoid the queues and become a CAMRA member for £20. It means you get in for free but also support the work that CAMRA does in the UK.

You will need £2 to buy a pint glass, which is redeemable at the end but we like to collect them.

Monday has a short window where it's open to tradespeople but then the doors open to the public for the rest of the week.

It closes 3pm to 5pm each day so plan your visit. The most likely opening hours are the same as last year:-
Opening Hours
Day
12:00pm — 3:00pm
3:00pm — 5:00pm
5:00pm — 10:30pm
Monday
Closed
Closed
£4.00
Tuesday
Free
Closed
£4.00
Wednesday
Free
Closed
£4.00
Thursday
Free
Closed
£5.00
Friday
Free
Closed
£5.00
Saturday
£3.00 All Day
Last admission is 30 minutes before closing.
There are lots of international beers and beverages from far and wide but we suggest you support out local breweries.
There are a few local brewery's to sample including Calverley's, which is run by two brother's Sam and Tom. https://www.calverleys.com/
You might also like to find Milton Brewery run by the local character by the name of Beard (for obvious reasons). https://www.miltonbrewery.co.uk/
Drink responsibly and have a great time!
Article by Anthony Dean
Cambridge Bike Tours
More information about the event coming soon and can be found here:-
https://www.cambridgebeerfestival.com/events/49th-cambridge-beer-festival/
more
Time

23 (Monday) 1:00 am - 28 (Saturday) 1:00 am